Look Out Boston! It's "Oh No! Oh My!"
One of the most fun American bands of the last half decade appears tonight
in Boston
. Well, at T.T. the Bears in Cambridge's Central Square - to be exact. The Austin group have one hell of an interesting sound, embracing several styles and not compromising any. It's hard - on a single listen, to say exactly what
Oh No! Oh My!
(Dim Mak records artist) is supposed to be - or even what their intent is on any given night.
The band has a penchant for capturing the heart of independent rock - no matter what name they are traveling under these days.
You see, this Austin indie band (
which incorporates just about everything from folk ballads, sing-songy classic pop rock to electronica
) started making really fun and innovative songs under the nom de guerre "
The Jolly Rogers
" in Nashville some time ago. Realizing that a relocation (school obligations figuring prominently) was of a sound idea, a re-invention of sorts occurred in Texas - Austin to be exact.
Fans of "
The Jolly Rogers
" should rejoice however, as the band has just re-released fresh versions of their old material under the Oh No! Oh My! name. (Check your local indie music stores, on line and in concert for the EP titled: "Between the Devil and Sea!")
Catch the band on this tour and listen for really fun songs like,"
Walk in the Park
,
Fell In Love with A Zombie
,
I Love You All the Time
,
I Have No Sister
, and
Jane is Fat
."
Man this band is great!
Appearing Tonight!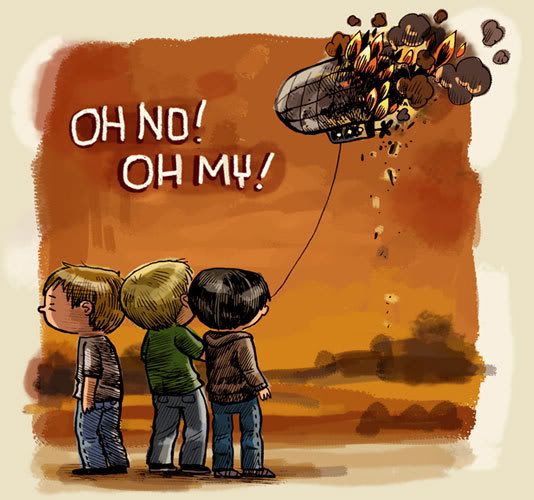 Oh No! Oh My!
highly recommended fun