Guster Live in Boston - The Modstock Concert (2005)
In light of Guster's performance during this weekend's
Download Festival
at the Tweeter Performing Arts Center in Mansfield, I thought I would resurrect this live show for all you Guster fans! Enjoy, and please come again...
A Rare Performance...


Guster

played Boston

- May 5, 2005
In 2005, Guster played Boston College's "Modstock Concert."
Something about the band: the three-man band met in 1992 while attending Tufts and played throughout the area for years. During this time they developed a huge following of college students and music enthusiasts. (Named the best live act at the Boston Music Awards in 1997 -- years before this recording!) It is for all of these reasons that no matter where the band lives and plays, there are a great many in Boston who consider the city and region to be Guster's home.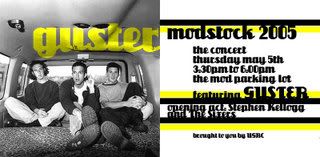 Guster was the headliner for
B.C.'s Modstock 2005.


Grab this show and listen to Guster play their "home turf" back in '05! You'll be capturing some old classics and some new favorites. There is a special early version of "Satellite."