An Evening with Child Bite and Eldridge Rodriguez & the Spanish Armada!
DATELINE:
Thursday 8/9/07 at
P.A.'s Lounge
, Somerville, MA
- I have arrived tonight to see
Eldridge Rodriguez
(
Midriff Records
recording artist) and his backing band tonight,
The Spanish Armada,
play at one of the most fun and certainly one of the loudest venues in the entire city. It was one hell of a night. I arrived early at ended up enjoying the frenetic music stylings of
Child Bite
(Ferndale, Michigan - a suburb in the Detroit area.)
What a great sound!
The band is a vibrant band of four sonic bandits - blasting their way through drum- and keyboard-dominated tracks with punctuated drum and bass solos. The band was in the Boston-area for just one night during their North American tour and they put up one hell of a show!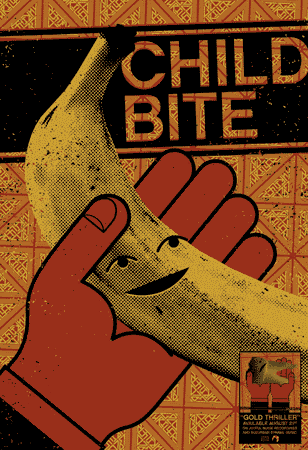 Now on tour - CHILD BITE
Child Bite does not disappoint! Screaming wildly - they played one hell of a loud, dynamic set, motivating me to
pick up one of their albums
-
it's good stuff
- definitely worth the investment!
The Night's main event was Midriff Recording Artist
Eldridge Rodriguez
- an amazing solo artist who most in Boston know from his work as the singer for the sensational Boston Band -
The Beatings
. E.R. plays tonight with the
Spanish Armada
(Will Scales on bass, Dan Parlin and Greg Lyon of
Pending Disappointment
on guitar.) The band played a sensational set, helping to bring E.R.'s songs to life. Rodriguez is touring to support his insanely good "This Conspiracy Against Us."
It's an RSL recommended album
and
will soon appear on my BEST OF (so far) 2007 LIST!
If you have not taken the time to see E.R. play live - do it. This is about as good as it gets - right here and now!
Eldridge Rodriguez Video: Stillborn in New Jersey

Watch this!