Song of the Day: TV on the Radio cover the Pixies' Mr. Grieves
If you haven't seen TV on the Radio yet
- the very cool NYC underground band that took the indie world by storm last year - you should check out their
myspace
page and try to get to a show. And if you can't make it out to a live show they do have a live show link on their regular
webpage
that will take you to a download especially recorded for itunes. What a sound!
Here they cover the Pixies' "Mr. Grieves" - in a performance that I am sure stuck with the live audience for a long, long time.
SONG OF THE DAY:
TVOTR cover the Pixies!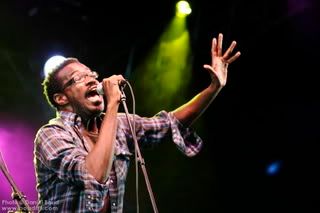 On Stage - photograph by Daniel Boud
Coming Up: Two Live Show Reviews (one from Los Angeles and one from Boston!) and my take on the new Tiger Army album. At least one album Review and my hype for the Sold-Out Silverchair concert on Sunday Night at the Paradise here in Boston. Stay tuned!