FOUR SONGS for FREE SPEECH
Free speech is the whole thing, the whole ball game. Free speech is life itself. - author Salman Rushdie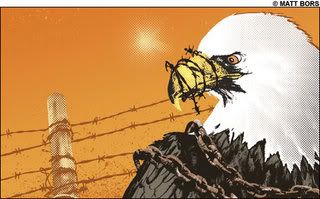 And Now We Celebrate Our Freedom of Speech! This post for free speech is dedicated to
the Boston Phoenix
's annual Muzzle Awards - listing the names of those officials and offenders who tried to silence Free Speech....
BACKGROUND
(
A few brief words
)
Every year
The Boston Phoenix
(one of the best free weekly publications on the planet)
publishes a critical list exposing the names of the worst offenders against free speech. These are called, "
The Muzzle Awards
."
Definitely worth a read
. Want to get ready for the next town meeting or vote? Read this list! Granted, this list is Massachusetts-centric (largely) but the spirit is what should be applauded. There are two equally important parts of free speech: Those who protect it and Those who use it. Be "guilty" of both!
FOUR SONGS FOR FREE SPEECH