Artist and Song of the Week: Fujiya & Miyagi - the Indie Rockers from the UK with the Japanese Name - with "Ankle Injuries"
Fujiya & Miyagi are a British threesome making some pretty sensational music.
Already having done the South-by-Southwest music thing this year, F&M moved on recently to Pitchfork and have made quite an impression with the crowds there as well. The band is made of up three very non-Japanese natives from the UK - which surprises a lot of people the first time they see them on stage. Dave Best (vocals, guitar and keys), Steve Lewis (beats, backing vocals and keys) and Matt Hainsby (bass, keys and backing vocals) do all the sounds recorded on Fujiya & Miyagi without traditional drums. There is some talk of adding a drummer, but the band has not yet made up their mind on that accord.
Fujiya & Miyagi's new album
- Transparent Things is available now in the UK on Tirk Records and on DD&B Recordings and I-tunes in the USA. It was released in Japan on Rough Trade on 11th April, and across Europe on Groenland Records on 16th March 2007.
Green Screen: The Making of the "Ankle Injuries" Video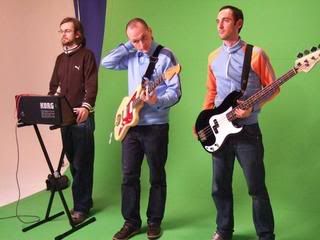 Fujiya & Miyagi
I selected F&M's fun track, "

Ankle Injuries

" to share with you as track of the week largely due to the amazing video.
Once I got watching the video, I appreciated the song even more. It's a complimentary affair, really. The video, filmed in front of a green screen - was animated with dice....! The editing and production were completed by Wade Shotter of London production company Factory Films. It's one of the best I have seen this year!
ARTIST OF THE WEEK:
FUJIYA & MIYAGI'S


"ANKLE INJURIES

"
Production: Factory Films (London)