The SnowLeopards - Boston Band is Artist of the Week
I finally got around to ordering my copy of
the SnowLeopards
"Debut"
album. In-between kicking myself for not doing it sooner, I have been REALLY enjoying the songs. The record is a 2007 release and a
must have
.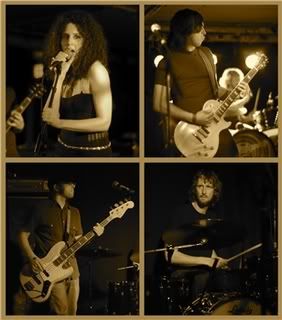 At the core of the band is Heidi Lee (
vocals and guitars
) and Mike Oor (
lead guitars
). Jimmy Jax (
bass
) and Jeff Harrington (
drums
) were added in this latest incarnation of the band and rock out hard on the album. I suppose what I like best about the SnowLeopards (besides that they are from Boston and that they technically very good) is that there's grittiness to their songs that I suppose I did not expect. This album is a celebration in guitar and in the fuzz sound. The album was produced and mixed in part by Bleu, who also lent a hand with guitars, keyboards and percussion. This one is a winner and I am a fan.