Record Breaker: The Band that was the 22-20s
It was sadly
One & Done
for what was looking to be the one of the top ten bands of the last five years. The songs of the now-defunct 22-20s are drenched in blues-influenced riffs and crafty, yet simple lyrics. The drums slam! The guitars wail! The bass is smooth and the key danced. Before there were the Raconteurs (and before them, the Greenhornes) - there were the 22-20s. This is the story of the band that produced one amazing record. It's a celebration of the music and a funeral for a band whose members just couldn't get along.
Released in Sept. 2004, the 10-track 22-20s debut
The 22-20s were a heavily blues-influenced rock band with alternative leanings. Starting as a three-piece band, they emerged from Sleafold, UK only to be joined soon thereafter by a keyboardist - rounding out their classic sound. They were getting the right people's attention within a year they would be appearing on larger stages opening up gigs for Oasis and guitarist and solo artist Graham Coxon (formerly of Blur.)The band's unusual name is a tribute to 1960s Mississippi bluesman Skip James. James performed a song called the "22-20 Blues."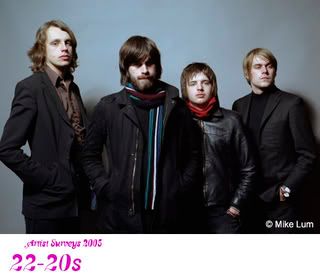 The 22-20s had four songs on the UK charts at the same time, were drawing new fans by the day by playing on two successful tours and were writing songs for their next album when they decided to call it off suddenly on January 25, 2005 ... with only one album under their belt! According to statements made by frontman Martin Trimble - he no longer listened to the blues. Other versions of the story put the band members at odds with each other. Either way, the music was over.

This is an amazing record that is increasingly difficult to find. You can sometimes pick one up in a discount bin at your local independent record store. Some companies (especially those in the UK) may have some limited inventory, but once these are gone - don't expect any more to be printed. I buy this one and give it away to friends whenever I find a copy.
* Editor's note:
The Record Breaker Series is a focus on criminally overlooked, forgotten and maltreated albums. There are additions postings in this series in the right tool bar of this blog. The first thing you will notice is that the selections are pretty far flung - matching my musical tastes. How do I choose? Sometimes I just get to missing an older record and write about it. Other times, I elect to break-down a record because I pick up a music rag or read something foolish in the press badmouthing a perfectly good album. Like you, I really dig music. Don't know if you could tell or not...
Be guilty of one thing - Good taste! ~
Ryan