Editors live at South by SouthWest - New Album is close!
LIVE AT SOUTH-by-SOUTHWEST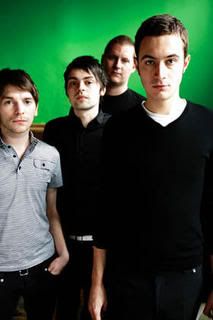 THE EDITORS
March 15, 2006

-

Austin, Texas
On June 25th, "
An End Has A Start
" -
the Editors new album will be released
in Europe (
no US release date announced yet!
), and the world will know what kind of prognosticator I am. You see, My review of their "
Back Room
" album pretty much went like this - Wow, these guys are great! But, it's too bad I have heard recent live material - because it seems like they have already surpassed the songs and talent recorded on this album. (True.) It was an honest review, if not mixed in its praise.
You see, the Editors are better than their last album (which was very good to be fair and worth owning.)
But as someone who practically breathes music like a fish would in water (-
no gills yet
,) I had been given the promise of something better prior to hearing it. There was a promise made. That day comes now. The Editors have a legacy to grow into. The new album is at the gates and I couldn't be happier to open the door to the new material.
If their new single: "

Smokers Outside The Hospital Doors

," is any indicator - this will be one of the best albums of the year
. That would suit me just fine.