Breathe it In, Boston's SCUBA releases a tight, fun record
The latest quality album publication here in Boston comes from
Scuba
, a tight four-man band signed to Midriff Records. The band's self-titled debut offers up nine songs and a live video showcasing their sound. If you like the
National
,
Letters and Colours
(UK) or Boston's own
The Beatings
(also on Midriff), you will find this band in welcome territory. While clearly descendant, it takes just one listen to realize that Scuba is a band of talented musicians of their own making as well.
The genre-crossing sound is refreshing example of how good modern music can be when the artists have numerous influences under their belt but strive to be more than their parts
.... Recommended!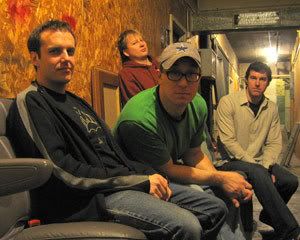 Boston's Scuba are (from left): Tom Becker - bass, Steve Calnan - guitar, David Grabowski - vocals and guitar, and Jason Keish - drums.

Scuba has an upcoming gig at PA's Lounge, Somerville on July 17 -
Be there
!