Tragedy in Boston - Paul Farris, singer of theMark, is killed in an Overnight Accident
Blogger's note:

I had planned on doing a Memorial Day tribute today, but dropped everything to write this piece. For the friends of the people hurt in this accident, to the fans of the band theMark, to anyone who ever wanted to be in a band and to touch music - who strive to live and be near creativity... This is a dark day. My thoughts go out to you.

None of us live forever - cherish what you have.
An important story.
TRAGEDY IN BOSTON:
Paul Farris, singer of the Tuft's alterno-rock band
theMark
, and his girlfriend Katelyn Hoyt were the passengers of a taxi cab struck by the driver of an SUV being chased by Massachusetts State Police. The driver was arrested at the scene. Paul was killed and Kate and the cab driver are treated for very serious injuries.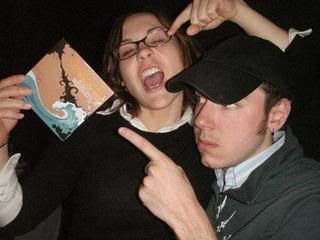 Kate Hoyt and Paul Farris
Police chase ends in collision; 1 killed
By April Simpson and Beth Daley, Boston Globe Staff | May 28, 2007
A 2006 graduate of Tufts University who was the lead singer of a popular Boston rock band was killed yesterday after a sport utility vehicle being chased by State Police crashed into the taxi cab in which he and his girlfriend were passengers.

Paul V. Farris, 23, of Medford, who had recently taken his law school entrance exams and was the lead singer of theMark, was pronounced dead at Somerville Hospital soon after the early morning accident, the Middlesex District Attorney's office said.

Farris and his girlfriend were coming home after a night out with friends when the SUV hit the cab, said Cathy Cella, a friend of the Farris family.

Police arrested the driver of the SUV -- Javier Morales, 29, of Somerville -- at the scene and charged him with motor vehicle homicide yesterday.

Farris's girlfriend and the cab driver suffered serious injuries and were being treated at Massachusetts General Hospital last night, according to authorities. On theMark's page on MySpace.com, Farris's girlfriend was identified as Katelyn Hoyt. Fans of the band left messages on the site with prayers and condolences for Farris's family and Hoyt.

An unidentified employee of Metro Cab of Boston acknowledged last night that one of its cabs was in the accident, but declined to identify the driver.

"This is the most senseless thing that has ever happened," said Cella, of Edina, Minn., a suburb of Minneapolis, where Farris grew up. Cella described Farris as charismatic and handsome with a great sense of humor.

"My two youngest daughters would fight over who was going to marry him when they got older," Cella said.

Farris, who was a history and political science major at Tufts, was working as a claims adjuster while he decided which law school to attend.

Morales was driving a Mercury Mountaineer in Everett about 1:20 a.m. when a State Police cruiser tried to stop him for motor vehicle violations, according to the Middlesex district attorney's office. Morales refused to stop and led the police on a chase into Somerville, authorities said. Four minutes later, his SUV hit the cab, which was stopped on Highland Road.

Farris's alternative rock band was well known in Boston and played in venues throughout the Northeast, including the Knitting Factory in New York and The Paradise in Boston. Farris graduated from Edina High School in 2002. He has a brother, Scott, who is 19, Cella said.

"He was just one of the best kids, Cella said. "He was one of the kids everyone loved to have underfoot. He was funny, nice, and polite, and greeted everyone's mom with a hug."
theMark live in Cambridge
A review by
Independent Clauses
on singer Paul Farris:
"
.. a lead singer with a voice so smooth and persuasive that it could convince even the most hardcore skeptics of the moon conspiracy that we did, in fact, land on the moon.

Its the type of voice you listen to the radio to hear- a great, talented voice.

"