Song of the Week - The Cassavettes with "Shine A Light"
SONG OF THE WEEK and MAJOR LINKAGE
Well, I for one am certainly glad we made it to Friday. I have had lots to do at both work and home (I am moving, so everything I look at needs to be packed, labeled and lifted!)....

I wanted this week's song to be a little fun and uplifting - without being silly or annoying. (If that makes any sense at all?!) - The Cassavettes are from Boston too... It just seems ideal to me.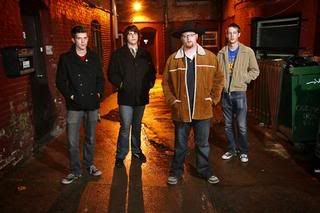 Cassavettes' Next Big Show:


MAY 25 at T.T. the Bears in Cambridge's Central Square.
RSL SONG OF THE WEEK
Shine A Light
YE OLD RECAP / THE HAPPENINGS
(
It's what's happening or has, in fact, happened
):
This week we took a long look back in the Record Breaker album series at the Red Hot Chili Peppers' funky second album: Freaky Styley!
A new treat: We got a listen to one live track and a Sufjan Stevens cover by Charlotte's Emptiness Engine.
Friend Jesse Malin has gone and released a huge "Glitter in the Gutter" tour schedule!
Speaking of Houston - I took my time machine back to the Nineties and shared my personal history with

Everclear

. Actually the song I dropped on you was frontman Alex Alexakis playing live in Houston in 2003. It's a great live acoustic version of "

I will Buy You A New Life

."
My friend Gerry Miller - a tremendous musician in Sheffield, England sent me a few new tracks from his band

Letters + Colours

to share with you readers. And we did.

And then his label threatened to sue!

And I pulled a pair of them down. So if you didn't get the new songs "Gaunt" or "Plan A" - I am sorry. But there are still songs to listen to and download - including a nifty "Gaunt" video. Please go over to his myspace and add him. L+C are one of the best bands in all of the UK!

The Mason Proper Exclusive interview

drew a few thousand readers. The contest to win the

world's only autographed copy of the record

is still open! The prize is still hanging out there.

The

tease

-Mason Proper

Interview Part One

-

Interview Part Two
Have you bookmarked this blog yet? I will win you over. More to come.