Letters and Colours - New Music from the UK's Best Kept Secret
New Songs
including an
RSL Exclusive Track
from the one of the UK's Best Indie Acts!
There is no bigger supporter of the Letters + Colours band in North America than the RSL Music Weblog. How do I know and why? L+C singer Gerry Miller has taken over these pages to write before - scribing about
the contemporary UK indie rock scene
. (Highly Recommended. This is the story that put RSL readers in the front of the pack when it came to new UK bands!) Gerry dropped some
poetry
for us. He also shared some of
his band's songs
. I first met Gerry back last September - here was
L+C's first appearance on these pages
.
Today, Mr. Miller has sent me some new tracks including an exclusive demo that you won't find anywhere else. Why do I like them so much? - Just listen. There is nobody out there like them anywhere in the world. Trust me!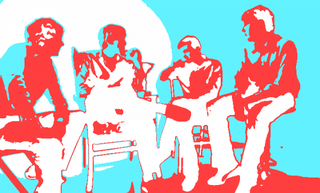 L+C - Colourized
the video for "Gaunt"
NEW SONG
Serve My Needs

The Songs
"Gaunt"
and
"Plan A"
have been removed at the L+C label's request.
Plan to pick up the singles when they are available!
RSL EXCLUSIVE L+C TRACK!!
Marital

Classic Letters and Colours

The Letters and Colours
Download Club and Mailing List
:
here
The Letters and Colours
Main Page
:
here
The Letters and Colours
MySpace
:
here