I Ran (Ran So Far Away) - A Guilty Pleasure for Song of the Day
What is this?
1980's New Wave for the Song of the Day on my Music Weblog? Sure - everything has roots somewhere. There are songs that stick despite our best attempts. I have a sense of music and a taste for humor. Which leads me to my questions about this song: What were you doing the last time you heard this track? Who were you with?
Place memories
are strongest with music and food. Interesting.
A Flock of Seagulls
with
I Ran
. Come on back later, there will be more.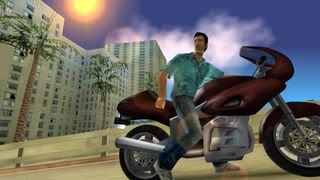 LOVE FROM VICE CITY - A Flock of Seagulls were the backdrop for the advertising campaign and were center stage in this "Grand Theft Auto" classic set in the 1980s- one of the most popular names in gaming history.

So stylin'