The Gods, Heroes and Myth mp3 Mix - Another Story by the Fire
Gods, Heroes and Myth ~ Part One

A glance into the world of story and legend through the eyes of songs…
Songs celebrating the common realm of myth and icons: History tells us about the importance of myth and the power of story. The language used to tell each has changed - but song and music are the common denominator in story telling. Originally appearing here on this blog last year when this page was still in its infancy - what follows is my showcase of songs from the world of legend and myth. Sit around the warm fire I have built. Sit with a friend and enjoy the telling!

Songs for Mercury & Hermes -
Gods fleet of foot

Beautiful and True - Huck (Boston)
Remembering Ghosts of the Battlefield –
Songs for Warriors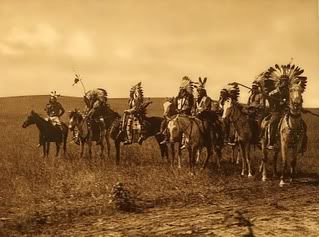 Image: Sioux Warriors – Anon.