Review - Boston's Eldridge Rodriguez releases a Must Own Album.
Perhaps one of the most important album releases of 2007 has been in my CD player all week. It's "This Conspiracy Against Us" from Eldridge Rodriguez (the Beatings) and its now available on Midriff Records. It's with great satisfaction that I share a fine Boston release with my daily international readership.
There is a profound intensity to Rodriguez's songs that is rarely seen these days. The instruments and the sound of E.R.'s voice seem to stir rainclouds and we realize that thunder cannot be far behind. These songs are not for everyone - but great records rarely are. The songs here are soft toned and yet frantic (think sticky sweet metronome-metered heart beats) with Rodriguez's deep, chilling voice. The pacing is perfect for his lyrics - a feat he has mastered as a solo artist and with The Beatings with whom he released a second album just last year; "Holding On to Hand Grenades." This solo effort is an out-growth of those sessions it appears - but such organic artistry tends to time-date a prolific mind. If this is the case, the 14-track "Conspiracy" album is a road marker worth owning.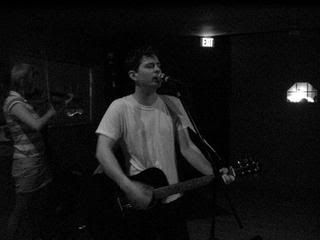 E.R. with Kamiko Darro (violin)

I last wrote about Rodriguez in December when I named him - along with Austin performers Bill Baird (Sound Team) and Jared Van Fleet (Voxtrot, Sparrowhouse) as the best indie rock artists in the country to try their hand at releasing solo material. Both Baird and Van Fleet (as Sparrowhouse) have come to draw attention from an adoring indie nation. Perhaps this is because of their music-centric Austin locale; but with a serious listen to the "Conspiracy" album - I can now say Rodriguez is ready and worthy of such serious attention.

The lyrical gems abound in the "Conspiracy" tracks and come at quite unexpected intervals. Rodriguez is his own man, but echoes of Ian Curtis live in songs like "The Deal Breaker" and "Lexington, KY"

You and I can't ignore them.
And give 'em what's best for them.
When we rob them of the gossip that they need.
Don't Speak. Don't Speak.
Don't Speak. Don't Speak.
Don't let Our secrets be released.

BUY THE ALBUM.
The record is available at local record stores.
If you are outside the Boston area, get over to E.R.'s
myspace
or contact the good folks at
Midriff Records
and they can help you out.