Planning the Future with Martin Sexton. He releases his Seeds album.
Premium New England Artist releases a new album
I have been a fan of
Martin Sexton
since the mid-Nineties thanks to a well-received tip from an old friend. His debut album
"Black Sheep"
(1996) is one of the most underrated indie records of all time.
(Hint, hint)
Since then I have attended sixteen of his shows throughout New England. To put things in perspective, I am not easily impressed and have met literally hundreds of musicians. I was speechless, however, when I ran into Martin Sexton in a Northhampton, Massachusetts coffee shop two days after a particular scalding show in which I saw people crying in the crowd (
no joke!
)
the talented Martin Sexton

Martin has released his seventh album,
"Seeds"
on store shelves now
- and without question it should be in your collection. The album marks a turning point, of sorts, as Sexton seems to have made a conscious decision to dabble in different music styles. Examples include
"How Far I've Come"
and the conversely titled
"Failure"
show the expanse of the album.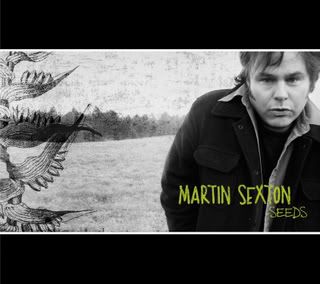 There are still traces of his guitar-centric and gospel-driven past
"Happy"
and
"Wild Angels."
With the sole exception of the
"Marry Me"
track, which I feel does not belong on the album - this is a great release. Two of the best songs on the record have an easy-going flow to some of the songs
"Keep It Simple"
and
"Thought I Knew Ya"
which was refreshing to hear. I will share my favorite track, "There Go I" - a solo performance by Sexton. It's a fun track about religious difference (
how often do you hear someone say that?
) and am the relative smallness of man in relation to the world and the divine.
It's classic Martin Sexton and it's why he is today's Artist of the Day.
From the Seeds album:


Bonus track:
Martin Sexton - Can't Stop Thinking Bout You (live)
Martin Sexton - the Seeds tour:

4/27/07 Council Bluffs, IA Whiskey Roadhouse
4/28/07 Saint Louis, MO The Pageant
5/15/07 Location TBA Mountain Stage
5/16/07 Asheville, NC Orange Peel
5/17/07 Nashville, TN Exit-Inn
5/18/07 Louisville, KY Brown Theatre
5/19/07 Atlanta, GA Variety Playhouse
5/20/07 New Orleans, LA House Of Blues
5/22/07 Dallas, TX House Of Blues
5/23/07 Austin, TX Antone's
5/25/07 Carrboro, NC Cat's Cradle
5/26/07 Washington, DC 9:30 Club
5/27/07 Amagansett, NY Stephen Talkhouse
6/10/07 Lawrence, KS Wakarusa Festival