Margot and the Nuclear So & Sos - Skeleton Key
Margot and the Nuclear So & Sos -

Skeleton Key
This is the song that was stuck in my head all day long. And actually, this isn't the first time this song has done this to me. It's got lots of elements that great indie rock songs have - it's just a little more poppy. Of course, this only makes it stick to the inside wall of your brain ever more - Download at will; listen to your satisfaction; and memorize at your peril.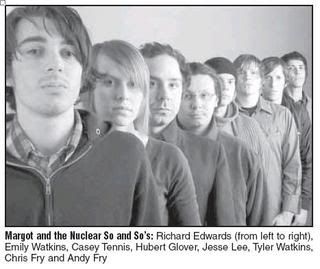 MANSAS
has an album out now called, "
The Dust of Retreat.
"
Visit the band page
here
for more sweetness.
I am meeting my Dad (he's visiting) for dinner and then I am off to see the Tragically Hip and the Constantines at Avalon tonight! See ya.