Blog Radio Volume 22 - Run!
BLOG RADIO Volume 22.0


Runner-themed Songs

The latest blog radio session commemorates yesterday's running of the
111th Boston Marathon
. What better time to enjoy some "Runner-themed" songs? (Just in case you were wondering, I purposely skipped U2's "
Running to Stand Still
", Dion's "
Runaround Sue
", Pink Floyd's "
Run Like Hell
" & the Bosses' "
Born to Run
" amongst others...)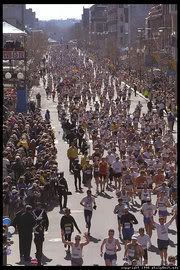 A runners creed:
"I will win; if I cannot win, I shall be second; if I cannot be second, I shall be third; if I cannot place at all, I shall still do my best."

Ken Doherty

What is Blog Radio? This collection celebrates my musical tastes, gives me a chance to dust off some old classics and slip in some new artists who might otherwise not get proper exposure. A new installment is released once each week to ten days (this episode is overdue). Today's post is a commemoration to running for what we want - and not running away from anything. - Ryan