Blog Radio 23 - Another Place, Another Time
Welcome to Blog Radio volume 23
"
If you don't know where you are going,
any road will get you there."
- Lewis Carroll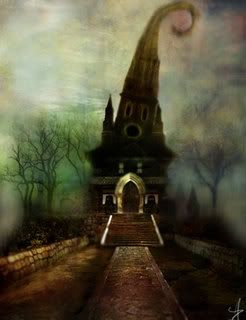 the castle by artist Alexander Jansson
Songs for the traveling mind...
Air
are a French duo touring on both sides of the Atlantic in support of their new album titled Pocket Symphony. Great stuff.
Andrew Bird - Way Out West (live)
I am still a relative newbie to the world of
Andrew Bird
, but I am quite taken by his remarkable style. Definitely run out and pick up his 2007 LP titled Armchair Apocrypha. It's a winner.
Indie hipsters are still rockin' out to Beck's 2006 Information release. This prolific artist continues to challenge his listeners and the notion of what constitutes pop. Gotta love
Beck
!
I have been really challenged as a listener by
CYHSY
's Some Loud Thunder album (2007) - and I recently came to really like it. I loved their fist album so much, the fact that this one was different was troubling at first. I actually like this new record very much and recommend it.
If the last year belonged to Wolf Parade's Spencer Krug (WP, Swan Lake, Sunset Rubdown) then perhaps it's time for his Montreal bandmates to take the reins.
The Handsome Furs
is a Sub Pop! side project of Wolf Parade's Dan Boeckner. It's new and highly recommended!
Nurse and Soldier - Green Tea
Sharing Boston music with you guys is just about my favorite thing. One of the most popular new songs in my ipod is this dreamy track from
Nurse & Soldier
. The duo have a new album out this year called Marginalia on the joint Brah-Jagjaguwar record labels. Pick this one up.
Sparrow House - Blindfold Waltz
One of the best and most criminally unknown projects from the last year is
Sparrow House
from Austin, TX. It's the solo project from Jared Van Fleet from indie rock outfit Voxtrot. You should definitely own The Falls EP release.
The National - Lit It Up (remix version)
The National
is a NYC indie band with a new album called Boxer on Beggar's Banquet Records. I have been a fan now for about two years. The song included here is a rare remix version of their Lit It Up track. Check out their record catalog and you'll know what you've been missing!
Wintersleep - Lipstick
Wintersleep
is one of my favorite bands in North America! Native to Halifax, Nova Scotia - they were largely unknown until last year. They deserve every bit of praise. The band's tremendous last album was released in 2005 (recently re-released) - but their new record will be released later this year. I was lucky enough to have met the band and captured
a great interview
.
- And thus ends Blog Radio Volume 23!
What is Blog Radio?
This collection celebrates my musical tastes, gives me a chance to dust off some old classics and slip in some new artists who might otherwise not get proper exposure. A new installment is released once each week to ten days. Today's post is a commemoration of sorts to daydreaming. Close your eyes and let your mind run wild. There are all kinds of songs for your soundtrack and an endless number of dreams to have! - Ryan