Vote for Hopper: The indie rocker on tour is ready to unleash a new, wicked album
Let's look north to Alaska.
The state motto is, "North to the Future."
Listening to Matt Hopper - this might just be true.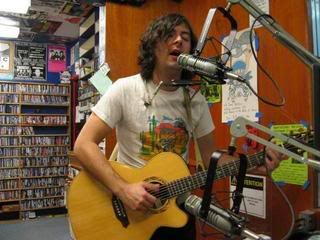 Hopper performing at KDVS radio in Davis, CA

It's on tour that we meet up with Matt Hopper, a roots-inspired guitarist talented beyond his years. Recently I have been talking with Matt online. (We have been trying to land him a Boston gig.) Presently he is in Austin showing his stuff to an appreciative indie assembly. With a new album in the wings and a slew of new fans - 2007 could be Matt's year.


Matt Hopper by photog Katrina Mosienko
(I used this photo on a previous Matt Hopper post, but I dig it.)

Matt has somehow balanced his almost daily acoustic solo appearances (in the past this has been primarily in Alaska and along the West Coast - but has recently taken him all over the US and Canada) with a tour with rock-focused backing band the Roman Candles.
What's the name of Matt's new album? Hell if I know. I have already seen several titles for this 2007 release. One of 'em will stick. Stay tuned.