Meet Wintersleep - An interview with Bassist Jud Haynes
One of the hottest bands in the world calls Nova Scotia home.
CATCHING UP WITH CANADA'S

WINTERSLEEP.
Wintersleep's first album (
self-entitled
) and their second album (
untitled
) were just re-pressed and are now available at finer independent rock stores worldwide. The second release is just about the best record I have bought in the last year (& that's a lot of music!)
Hit Play now and Keep Reading!
Fog
It's Friday, February the 23rd, and I am preparing to meet Nova Scotia's Wintersleep after checking out their gig at the Paradise in Boston. They are opening up for
The Slip
(Boston -
link
) and playing with
Phonograph
(New York -
link
), who they are alternating opening spots with every other night. Tonight, Wintersleep opens and they are excited about the prospect of playing in Boston. Little does the gathering crowd know that this evening's opening act will play the best set of the night. It's frigid cold outset but inside - things were just heating up.
Wintersleep comes off as a pretty original band. Singer Paul Murphy has one of the most incredible voices I have ever heard. It's like an extra instrument he uses to establish pace through the tracks. The band's next greatest strength are their songwriting and unique song structure. The songs are showcased with long mood-setting lead-ins and extremely catchy choruses. Simply: they are really good. Playing live, they are even better.
Photo by
Danny Primmer
The Paradise is still filling in as the band closes up its set. Those that saw it were mesmerized. The applause were heartfelt and loud. It's a sad thing when the music ends but it means it's time to meet the band. The room is suddenly silent now - an abrupt and discourteous reminder of how good it was just moments before when the room was filled with the band's immense sound - what I can describe only as "Wintersleep-goodness."
Perhaps the whole experience was said best by Donna and Jason - two Wintersleep enthusiasts from Halifax, Nova Scotia who were at the Wintersleep show in Boston:
"It's great to see them play down here,"
Jason said.
"Back home they're huge!"
Donna added.
Bassist Jud Haynes and I talk informally for a few moments about some favorite shows, the current tour and Wintersleep's upcoming gigs next week in Austin, Texas during SxSW. "
One of the things I look forward to the most is seeing
Blonde Redhead
play. They're from New York
," Haynes said. "
And to us, they are about the biggest deal ever.
"
An Interview with Jud Haynes.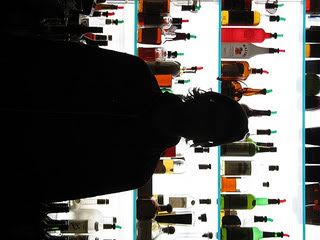 Wintersleep bassist Jud Haynes

Ryan (RSL):
With the Paradise show and warm reception following the gig, what are
your thoughts on another Boston show?
Jud Haynes (JH):
We'll be back for sure. Boston was far too good to us. You have a beautiful city full of very friendly faces. Please, someone call us so we can head out on that all important second date.
RSL:
I know you must be asked this anytime you leave Canada, but I feel it's important for my readers - What is it like being from Nova Scotia and trying to make it in the American market?
JH:
I thought it would be daunting and overwhelming but its really not. The people we have encountered thus far are just like everyone back home. We all listen to the same bands and watch the same movies - one thing you should all know is that no one in Canada actually eats "Canadian Bacon" - I saw that on the breakfast menu everywhere in the USA.... Just know that Canadians don't eat that stuff. We do however love "freedom fries!"
RSL:
We spoke briefly about the
Tragically Hip
- which is one of my favorite
bands of all time, and a favorite of yours as well. What have the Hip meant
to you as a musician in Canada? Are there other bands or musicians out there
from home that we should be aware of?
JH:
The Hip have become somewhat of a cultural icon back home. They were inducted into our rock hall of fame last year and for 20 years + have dominated the music biz up there. The rest of the world thinks we're all Avril Lavigne and Barenaked ladies, but the Tragically Hip are the true kings of rock up north.
They're coming to Boston very very soon and rumors I heard was they're bringing a band called the
Constantines
with them as openers. You HAVE to see this band! Signed to Sub Pop in the U.S., the Constantines are by far my favorite Canadian band. They're a treat to see and hear, and at least two of them taste like sweet chocolate desserts important by the worlds top chocolatiers!
RSL:
I will be at that show! It will be at the Avalon here in Boston on April 20. I am definitely looking forward to it.

Jud, can you tell us about the band? What's a typical night like before the show? Any
special preparations or rituals?


JH:
We have no special rituals or preparations. I wish I had something fun to report - but other than a strict regiment of moisturizing; choice conditioners; push-ups and Oprah reruns we're really not all that interesting.
As far as the individual personalities go, Paul loves coffee, books and spirited dance parties. Tim is quiet and finds comfort below the bill of his hat and while sneaking out for a smoke. Jon is a news junkie, watching countless hours of news TV finding occassional time to fry his brain on WWF wrestling.... Loel recently bought a souped-up mac laptop and now is the envy of us all while I have a sweet tooth that is sure to bring me closer to being diebetic with each tastey morsal, and I am fully in love with a machine called BlackBerry.
We're very normal and mildly lovable.
RSL:
Agreed, definitely! You guys are very down-to-earth. Tell me about your new album. I have been listening to your songs and they are just tremendous. What was it like making the record and how was this one different from the last? Were you happy with the results?


JH:
Making the album was an all consuming process. We recorded it in our home town of Halifax and poured everything we had into it. I think I can honestly say we're all 100% proud of everything about it from each sound, to the tone and pacing, to the packaging.
RSL:
Tell me about some of your past gigs. We discussed this briefly the
other night *(you have played with some very big names) - Tell us about your
favorites. Who would you like to play with?


JH:
We've had a great ride so far getting to meet and play with many varied artists including
Ron Sexsmith, Pearl Jam, Broken Social Scene, The Flaming Lips, Sonic Youth
, and tons more. There are lots of bands I'd love to see live, and if we got to share the stage that would just be a bonus.
Blonde Redhead
are top of my list, along with more
Sonic Youth
shows. I'd also love to sit and pick
Thom Yorke
's brain for ten minutes.
Iron and Wine, Magnolia Electric Co., The Books
(who I've heard are from Boston
*
- some one send them Wintersleep's love!),
MF Doom
, and so many more make up a short list of bands I'd love to tour with.
(* Ryan's note:
The Books
have taken up residence in North Adams, MA
.)
RSL:
One thing that is extremely different about Wintersleep from my perspective is the length of the porch, the long harmonies at the start of the songs, which help to set the stage for your listeners. How did this style come to be? Was it intentional?
JH:
I don't really know - its not something I've ever even really noticed. We just write songs as naturally as we can and if that is a pattern that presents itself than I guess we have chanced upon something without even trying.
Jud Haynes - a bassist in motion
RSL:
Thanks so much for visiting with me and answering my questions. I am very excited about the prospect of you guys returning to Boston or playing Providence. This was one of the best live shows I have seen in a long time!
JAWS of LIFE (live)

Additional Visuals