March is Independent Music Month at the MFA Boston!

INDIE-ROCK
ON EXHIBIT
IN BOSTON THIS MARCH
The MFA Concert Program is dishing out four
quality
indie rock concerts next month. Read this and act now. These four special events are bound to sell out and all should be notches in your belt when March is gone. You will not see world-class acts like these strung together like this anytime again soon.
Danish band
Under Byen
("
Under the City
") will be the first in the series, on
Friday, March 2
. Their chamber-rock is reminiscent of the Sugarcubes, Bjork, Sigur Ros, but with a dreamy songwriting aesthetic and an entirely eccentric sense of instrumentation.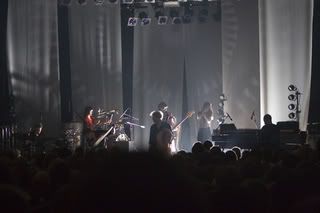 Under Byen


The group has recently had some member shake-ups which has helped to push their new album,
SAMME STOF SOM STOF
(
released on the joint Morningside Records/Playground Music label
) into stores.
The album was released just this week
- so you can be amongst the first in the world to see this material played live. It should be exciting. Here's the title track from Under Byen's new album release - "Samme Stof Som Stof:"
Swedish singer/songwriter
Frida Hyvönen
and indie-pop sensation
El Perro del Mar
will open the show. It should be a Scandinavian Treat!
El Perro del Mar
video -
God Knows (You Got to Give to Get Back)
More information on the Friday, March 2 show...
ticketing, artist profile and picture on the
MFA Boston website
Uruguayan singer/songwriter
Jorge Drexler
makes his Boston premiere on
Saturday, March 3.
Drexler has quickly become one of my favorite latin music favorites.
Jorge Drexler


Drexler is mega-talented. He released songs I enjoyed on the
Motorcycle Diaries
soundtrack and he recently tackled Radiohead's High and Dry. I will be at this one for sure. Listen now as Drexler channels the spirit of Thom Yorke...
More information on the Saturday, March 3 show...
The series continues on
Friday, March 9
with a concert of electronic-tinged, indie pop by
Luna alums
Dean & Britta.
Indie-Pop Trivia

: Dean & Britta
Now if you remember back, Luna were the spin-offs of a Boston band that Dean Wareham was in called Galaxie-500 (this is going waaaaaaaay back to like 1991) - but the fact of the matter is that there is a Boston tie-in, which I always like to do. Along with Dean starring in Luna, Britta Phillips, interestingly, was the voice of JEM - the rockstar cartoon from Saturday Morning cartoon fame.
And then there was Luna - a great group that lasted about five years. Now Dean and Britta are back together with some incredible results. Highly recommended! Here is a track to hold you over until the show...
More information on the Friday, March 9 show...
ticketing, artist profile and picture on the
MFA Boston website
The MFA month of indie music ends with all-girl Icelandic quartet Amiina (who also just happen to be Sigur Ros' string section!) on Saturday, March 31 at 7:30 pm.

Amiina have got a full length album coming out sometime in the spring on the Workers Institute label. I don't have any of their music - so here is a track of them playing with Sigur Ros, live in New York City from February 2006...
impressive.

More information on the Saturday, March 31 show...
ticketing, artist profile and picture on the
MFA Boston website
TICKETING


Please call the MFA BOSTON Box Office at 617-369-3306.


Tell them you read it here.






Click here to subscribe to the RSL weblog.

You'll be notified when there is new content or free downloads!