Newest Band from Baltimore - The Frenemies are Here
Exposing a new band. Listen up!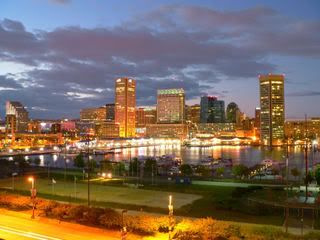 Baltimore By Night
-
photo by Scooter
A mix of rock, vocalized poetry and unexpected beats,
Frenemies
could be coming to an indie-rock venue near you. If you are reading this in the Greater Baltimore area....
Remember you heard it HERE first.
photo by Katherine STP Hill
Good stuff! Fresh and unexpected, this isn't the best I've heard in the last year but they are certainly far from the worst. There is a straight forward honesty on these tracks and (with it comes a quality of sound underscoring the effort of the musicians. Baltimore, indeed.
This band strikes me as one that would sound pretty incredible live.
In a world of imitators and slack talents -
Frenemies
are great adventure!
Recommended:
The
"Birds in High School"
album from
Frenemies
.
Frenemies on MySpace
(be their friend!)

Click here to subscribe to the RSL weblog.
You'll be notified when there is new content or free downloads!
Like this blog post? Please recommend it to others.