New songs from the UK's I Love Poland! - Band promises new album soon.
I received word from England's
I Love Poland
overnight that the Leed duo's full-length album is close to be released and that they are offering some tracks to tease fans.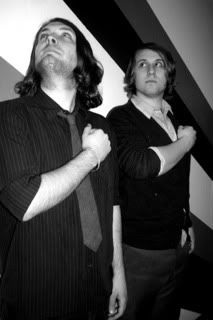 I Love Poland is Ben Osterburg and Chris Hannon.

Their music has a strong pop beat and is a cross between all things dark & wonderful. This is well demonstrated by their latest tracks; Writhe and I Misanthropic.
Download
I Misanthropic
from I Love Poland on their
webpage
In October 2006 the band's 7- track EP was released and was released with the impressive Glamour in the Dark. Here's that song now:

I look for more and better things from them with this new release.
It sounds like they are well on their way.

Click here to subscribe to the RSL weblog.
You'll be notified when there is new content or free downloads!
Like this blog post? Recommend it to others.