Rest in Peace Larry Zox - a Musical Tribute to a Beautiful Painter
Artist Larry Zox dead of cancer at 69
Green Diamond Drill
Larry Zox's speciality was form and color.


December 16, 2006
COLCHESTER, Conn. --Artist Larry Zox, known for his work in the color-field movement of the 1960s, died Saturday at his home of cancer, his wife said. He was 69.
Zox's paintings involved the splicing of a color field to give the sensation of shifting planes. They were the subject of a major retrospective at the Whitney Museum of American Art in 1973, and 14 of his works hang in the Smithsonian Institution's Hirshhorn Museum and Sculpture Garden in Washington, D.C.
Zox was born May 31, 1937, in Des Moines, Iowa, and studied at the University of Oklahoma, Drake University, and at the Des Moines Art Center with noted German artist George Grosz.
One of Zox's most celebrated images:
Zox was awarded a Guggenheim Fellowship as well as a National Council of the Arts award, and spent time as an artist in residence at schools including Dartmouth, the University of North Carolina, the School of Visual Arts and Yale University.
Zox had a studio on 20th Street in New York that was known as a colorful gathering place for artists, boxers and bikers in the early 1970s.
He is survived by his wife Sha King Zox, children Melinda and Alex, stepson Eric Knapp and two grandchildren.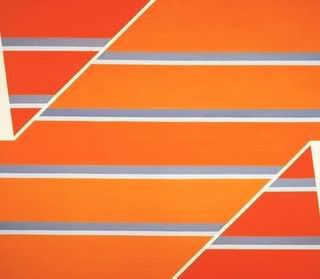 Zox's Orange Time
Zox's Scissor Jack for Jean
Goodbye Lawrence. They called you an abstract expressionist.
But I agree with you... You were a colorist.


And we need more.