Listen for the Tone - A Prediction: Cassavettes Will Change Boston
On Saturday Dec. 9 - Boston's
Cassavettes
will release their "It's Gonna Change" album.
Based on some early buzz, this might just be what you should be listening to this winter. Earlier this year, the band won a Boston Music Award for "Outstanding Americana Act."
Now they will be looking to add to that success.
Here is the new sound of Boston's indie rock!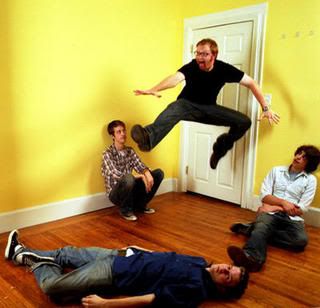 C. Scott Jones

Bass guitar, backing vocals, some piano and guitar.

Michael McCullagh
vocals, guitar, lap steel.
Matthew Snow
drums, backing vocals.
Glenn E. Yoder
vocals, guitar, piano, banjo, mouth-harp
INFLUENCES
Neil Young, the Band, Paul Simon, Old 97s, Royal City, The Jayhawks,Geoff Farina, The Lemonheads, The Smiths, Superdrag, Duffer, etc.

THE NEW SONGS

The new record gets released at the Middle East 12/9/06 - Be there!
Click here to subscribe to the RSL weblog.
You'll be notified when there is new content or free downloads!
This is a recommended StumbleUpon page.