Jesse Malin music - Songs that Change Lives (New album in February)
I have seen
Jesse Malin
play live twice and that was more than enough to win me over completely. A New York native who has since toured the world and shared the stage with some pretty big names - I can tell you he is also very easy to talk to and has a fun streak. Lyrically strong, his voice and appearance lend themselves to him commanding a stage.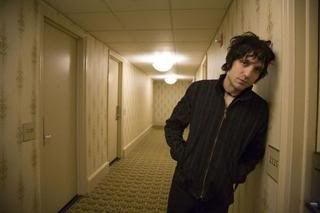 Jesse has been working on his new album
"Glitter in the Gutter"
(due in February '07) in studios on the east coast and in California. Two tracks were leaked a few weeks ago, but I am just now getting around to sharing them with you now.
The new album will have special guest performances by
Bruce Springsteen
,
Josh Homme
(Queens of the Stone Age),
Jakob Dylan
(the Wallflowers) and
Chris Shiflett
(Foo Fighters). (Jesse Malin stage partner in crime
Ryan Adams
will also make an appearance on the record.)
((( 1/25/ 2007 Update
: These tracks will be torn down soon.
)))
Black- Haired Girl (*demo)
Dont Let 'Em Take You Down (*demo)
Media shot from 2004's
"The Heat"
album.
A
must-have
album.
Three tracks from "The Heat"


Queen of the Underworld video
Ryan Adams and Jesse Malin - Landmark in NYC's Battery Park
Jesse Malin and Ryan Adams fans

absolutely need

these...
Ryan Adams and Jesse Malin have shared a stage across two continents. They often played the track "Solitare" together. Here are three of the very best (and different) versions of that song available anywhere - recorded in the span of a single week in 2004!

Jesse will play a special New Years show at Don's Hill in Greenwich, NY
(tickets at ticketweb)

New shows are being announced daily for a UK tour beginning in January.


Click here to subscribe to the RSL weblog.
You'll be notified when there is new content or free downloads!
This is a recommended StumbleUpon page.