November 2006 Indieland News - mp3s from Frank Black, Swan Lake & More!
While you were out trick-or-treating and cavorting with your sugared up friends this Halloween, Frank Black was getting busy himself. The indie singer-songwriter is touring in support of his double-cd release Faster Man, Raider Man - which you should get around to picking up.
That tour landed Frank at the WOXY studio for a recording session which can now be downloaded and enjoyed. 10-31-06 SETLIST: The Water That Burnt Out Rock 'N Roll, Cactus, Put The Needle In My Arm, Raider Man
I've made it no secret in these pages that I am a loyal Frank Black fan. So, here's more evidence: A few of my favourite FB tracks (some I have posted here before, some new...)
Beast Moans, the new release from soon-to-be Canadian indie super group Swan Lake is the news stirring these days. Don't know of the group? Odds are you soon will. Swan Lake is the collaborative efforts of Daniel Bejar (Destroyer, New Pornographers), Spencer Krug (Wolf Parade, Sunset Rubdown) and Carey Mercer (Frog Eyes) and they are releasing their debut LP, Beast Moans on 11/21/06.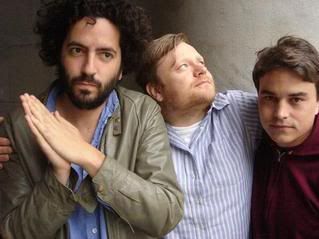 Beast Moans appears on the Jajaguwar label, which has kindly offered up two tracks for our listening pleasure. If they are any indication, this album may be worth the hype. According to label releases, Beast Moans was recorded in a summer cottage town in Victoria, Canada, in a house and was "self-produced." My prediction, this album will be damn hot and should be on your "to buy" list this month when it hits store shelves.
HIGHLY RECOMMENDED TRACKS:




Archie Bronson Outfit - "Dead Funny"
- BONUS TRACKS -
THESE ARE IN YOUR COLLECTION. RIGHT?