A Chance Meeting: There's nothing like Subcommittee
A musical combination of funk, punk, jazz, Latin, reggae and rock,
Subcommittee
are active players in the Northern New Jersey underground. I was lucky enough to catch one of their gigs recently in Worcester, Massachusetts (of all places!) at the
Lucky Dog
. What an unbelievable show! Subcommittee are a different sort of band - like chefs offering fusion fare previously unavailable in their city. They bring the energy and are an exceptionally tight band. Highly recommended.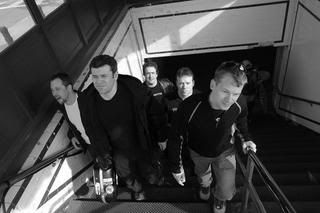 They left such a strong impression with me that I have been listening to their music regularly ever since.
These are my favourites:
To The Bottom
Burning
Sound Check

Stop by, visit the band and pick up some great music.
Subcommittee on the Web
Be the band's friend - MySpace page
~
Check it out: