"Something Tells Me, Something Tells Me" - An interview with Sound Team
"Something tells me, something tells me
This is just beginning..."
Movie Monster lyrics
There is a certain stage during every Soundteam show when the music reaches the first-timers and they get it. Scanning the crowd, it's something I look for. The attendees go from being stand-offish to mildly amused and suddenly, inexplicably – to being completely rapt. On stage, when the band gets rolling, a crackling energy is formed and it's hard not to get caught up in it.

The band closed their Oct 12 show in Boston at the Axis club with the best version of Handful of Billions I have ever heard. The show ended, but my conversation with the band was still yet to come. Here now is the remarkable interview I conducted that night with the band – a candid Q&A with one of most talented young independent rock groups in America.
I exchange pleasantries with bassist Bill Baird as the band packs up its gear. We soon meet in the patron-free front room upstairs in Axis for this interview. There are bean bags and benches with cushions setup for the musicians to lounge on before their sets begin. As we get comfortable over some Amstels, I can hear Sound Team tour mates Sparta take the stage downstairs.
Ryan - RSL: Thanks for meeting with me. You guys sounded really great tonight. I think the band sounds tighter now than when I saw you last just a few months ago (an amazing Tuesday night bill at the Middle East with Cold War Kids and Figurines). That version of Handful of Billions at the end was really wonderful.

Bill Baird: Thanks man!

RSL: You guys have had a wild run as of late. Movie Monster was released and you have toured extensively. You were one of this year's hottest bands at the South-by-Southwest Festival, which has become the indie rock showcase each year. Everyone is talking about you in the blogs. What's different about Sound Team?
BB: We're not a fancy band. We're not in it for the money. We love making music and this is what we want to be doing. Well, I will speak for myself. This is what I want to do until the day I die.
Bill Baird
Return here next week for a look at Bill Baird's two new incredible albums.
RSL: Ok. I want to get this over with. I have to bring up the really negative review you got from Pitchfork and was widely read by independent music fans. I don't want to focus on it too much, but I feel I need to touch upon it. Help me out here. What what was the rating they gave "Movie Monster?" It was like a four or a five, right?

BB:It was a three-point-seven. They gave us a rating of 3.7 - out of ten.

RSL: Wow. That's just silly. An average release would get a five or a six... A 3.7 is just insulting.

Pitchfork Review (June 30, 2006)

To be sure, Movie Monster has plenty to offer Next Big Thing-spotters. Like Clap Your Hands Say Yeah last year, Sound Team open things with a blink-and-you'll-miss-it song fragment, though their "Get Out" is more U2 anthem-- particularly "With or Without You"-- than CYHSY carny busk. Just as Tapes 'n Tapes endearingly name-checked Harvard Square on this year's The Loon, Sound Team drop in another real-life locale, Portland's Burnside Ave., amid the Wilco-esque Americana of organ-driven single "Back in Town".

Review (in all of its glory): link


BB: Yeah. They weren't reviewing our music, it was more like they were commenting on our social status. Like we didn't belong. We felt like (Pitchfork) weren't reviewing our album at all, they were reviewing us.

There's really no point in getting caught up in negative reviews. We believe in what we are doing in this band. I guess you shouldn't listen to what people tell you they want to hear or what they don't like about you. The creative well could run dry.

RSL: Ironically, you guys just got more popular following that review. It was almost like there was a lot of people out there saying, 'this is who Pitchfork is seriously panning today. You know they must be good.'

BB: They had their agenda set with that review. It seemed that the (Pitchfork) reviewer (Marc Hogan) was more concerned with what his name was attached to than what our music sounded like.

RSL: Now in retrospect, you can look back and laugh at that review. Do you want to talk about the video you made poking fun at the review online? What has the reaction been so far?

note: Referring to the YouTube video Bill posted online of a stuffed dummy clad in a red-suit labeled Sound TEAM being savagely tormented by a pitchfork, thrown off a cliff then set on fire. (Only to be tormented again by the pitchfork!) Baird seemed a little surprised that I knew about it. There are no links to the page on the band's website. Here it is!


BB: It was all meant in fun. It's kind of me showing that we didn't take the review too seriously.

RSL: It's hilarious. I love it. It shows you have a great sense of humor.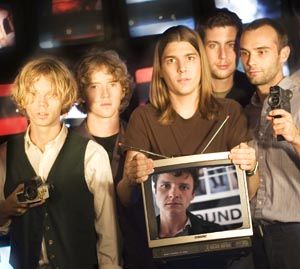 Sound Team are (from left): Bill Baird, Michael Baird, Jordan Johns, Gabe Pearlman, Sam Sanford. Pictured in on the television- Matt Oliver
We were little more than ten minutes into the interview when drummer Jordan Johns joined us.
JJ: How's everything going?
(chat)
RSL: I wish that more people on the East Coast knew your music. You guys have been to a lot of cities. I guess it would be easy to ask you your favorites. Is there any place you have played that you wouldn't return to for whatever reason?

BB: "The worst place to play?" Baird repeated the question. "So far?"

JJ & BB: (simultaneously) "Sacramento."

BB: "We played there to like, what? Two people?" Baird looked to Johns. "No one came out."

JJ: "And no one plays there. I mean no one. It's Sacramento.
RSL: Ok, well Sacramento indie fans probably already know this about their city. Speaking about being on the road, you have played with a lot of really excellent bands over the last year. What was that like?
note: This list (far from inclusive) contains some great names: Cold War Kids, Midlake, Figurines, Sparta, the French Kicks, the Walkmen, Franz Ferdinand and many more. In England they met up with the Smiths' Johnny Marr (who is now playing with Modest Mouse).
BB: We really got along well with pretty much everybody. I think the Walkmen were probably my favorite. Their music really match up really well with ours.
JJ: Yeah, the Walkmen were probably my favorites too. They really bring the energy.
RSL: You both can fill a room full of sound. Its good to hear so many different bands when you are on the road. Are you guys getting any new material written while you are on?
BB: We played two new songs tonight. We opened the show with Witch Hunt and played Orion later. We have about fifteen songs pretty much finished. They are going to be better than what we have now.
RSL: That's great news. I know that there are a lot of people who would like to see a new album from you guys.
BB: We will probably end up producing it and promoting it ourselves.
RSL: You guys are very "do-it-yourself."Is there any thought that with the early popularity and hype surrounding Movie Monster that you would sign a deal with a promotions company to handle things?
BB: If you look at it, we are a DIY band. And a band that - if you look at how we do things, we try to be different. We try to do as much as possible by ourselves. I don't think we will have anyone else handle everything. By doing things for ourselves it lets us be more creative and allows us to do our own thing.
RSL:Do you ever cover anybody else's music? I don't think I have ever seen or heard of you doing anybody else's stuff.
BB: We have done this Van Morrison song called Glad Tidings.
JJ: We did an old Nirvana song called School.
RSL: That's from their first album, Bleach, right? That's my favorite.
BB: Yeah it is. We also did the Train in Vain by the Clash. And we did That's How Strong My Love Is (Otis Redding). We have also tried some Philip Glass and some old Hank Williams songs.
RSL: You are from Austin. Austin is all the rage these days with indie bands coming out of the woodwork.Tell me a little bit about Austin, music-wise, and about your experiences at the annual South-by-Southwest Music Festival (showcase to the country's best up and coming independent bands.)
BB: Its hard for me to get a perspective on the Austin scene. Everyone is talking about all the new bands coming up, but I only really know of four or five really good bands that I listened to when were were there playing.
RSL: Well tell me about Sound Team playing SxSW. I had never heard of your music before the festival. I am greatful! How many years have you played the festival at this point?
JJ: We have played four years so far.
BB: When we first did it, the first year it was no big deal. We just knew somebody who was involved in the planning. He called us up and asked if the band wanted to fill a spot on Sunday night (the last night of the festival.) It was a last minute thing.
RSL: Really? You didn't have to submit any music? That's crazy.
BB: And now there is so much hype and so much music going on. There is good music at the festival, but it's hard sometimes to find.
JJ: I think the Austin Sound today is a reaction against the blues and the sound of musicians like Stevie Ray Vaughn.
BB: Bands are trying to find their own sound. Austin's music has changed over the years.
JJ: You had bands like Scratch Acid (1980's punk) and then the Butthole Surfers (in the 1990's.) The music changes.
BB: Austin has always been about bands of weirdos and misfits. You have to respect that. These people put everything they have into their music.
RSL: And now there's bands like you guys and Voxtrot among others. Its impressive to outsiders. Coincidentally have you heard the new singles from Voxtrot that have recently come out? They are working on new material.
BB: Yeah, its really good. Those guys are our friends. They are really good.
RSL: I'm a big fan of their work. I will be interviewing them soon as well, but probably over the phone. They don't get any further north than NYC on this tour. Do you know anything about the B-Side song "Sway" they just released?
BB: My friend Jared (Van Fleet) from Voxtrot did all of the arrangements on that song. It's amazing.
(chat)
RSL: Tell me about the wicked cool cardboard cutting with the profiles of the band that's up on your band's MySpace page.
BB: Our friend Paul Ahern, who worked on the movie

A Scanner Darkly

did that for us. Did you know that movie was filmed in Austin?

RSL: No, I had no idea. That's pretty cool. You guys should get a job promoting the city.

Gabe Pearlman and Michael Baird enter the room. Baird sits at his laptop and silently reads his email. Gabe picks at some food.

BB: You missed it. We're at the end of the interview!

Gabe: Ok, what do you want to know? If you want to know my likes; I really like v-neck tee-shirts and toilet paper. Two-Ply.

RSL: Haha. Be careful or that will be the only quote of yours I will use in the interview. And these guys (motioning to the rest of the band) will end up laughing at you.

(I actually did talk to Gabe about local pizza houses and Boston culture... He's from Cambridge, MA. The rest of the guys are all from the Austin area.)

Thank you to the band. You're great guys (some of the nicest people I have met) and tremendous musicians. Good luck on tour!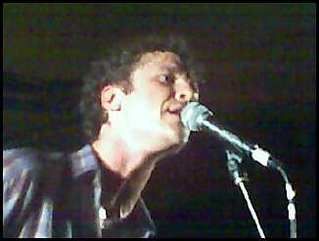 Matt Oliver

Your Eyes Are Liars (EzArchive)
Your Eyes Are Liars (MediaMax)


Handful of Billions (EzArchive)
Handful of Billions (MediaMax)
Born to Please (EzArchive)
Born to Please (MediaMax)
Movie Monster (Wide Open Space Version - A Bill Baird remix) (EzArchive)
Movie Monster (Wide Open Space Version - A Bill Baird remix) (MediaMax)
No More Birthdays (The Phil Spector Folk Version - A Bill Baird remix) (EzArchive)
No More Birthdays (The Phil Spector Folk Version - A Bill Baird remix) (MediaMax)
The Fastest Man Alive (EzArchive)
The Fastest Man Alive (MediaMax)