Controlling the Famous national tour in Jeopardy - band members may quit
Controlling the Famous may be through. Unnamed disgruntled band members vow to leave the tour.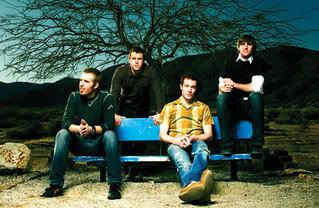 CTF - Finished?

TODAY - This is so new that there's nothing published on the band's official webpage and no updates have been made available from the band's label: Militia Group.
This little tidbit, hinting at the chemistry problems plaguing the band as of late, were posted by Max on the Controlling the Famous page on MySpace.


"Hello Everyone, Max from Controlling the Famous here.

We decided that we'd be taking an "indefinite hiatus." I just wanted to update everyone and let them know what's going on. Like with any band, its a tough job to be on the road, touring non-stop, constantly away from family and friends, have no money (flat broke), and live out of a van. It can really wear a person down and leave you questioning why you decided to start playing music in the first place.

Anyways, we were supposed to leave next Tuesday for a tour to CMJ in New York City. Everyone in the band agreed to going and making the best of the situation even though some of the past few tours had been really rough. However, some words were said about the tour about a week ago, and it became clear that some band members were ready to move onto the next stage in their life. It is sad and unfortunate, but its a decision each individual member had to make themself. Its a cliche situation, but again, everyone is still friends and everyone will continue on their own paths. We truly loved playing songs together while it lasted. You will all be updated on their new endeavours whether its music related or not.

I will leave you with this...

I will personally be keeping the spirit of Controlling the Famous alive, by finding new people to play music with. The band name may change, but the music will keep going. I am in no way done playing music and hopefully all of you guys who bought "Automatic City" will stand by until everything starts up again.

Thanks so much, and I will see you all again soon. Thanks for everything.

Max."


Details will be shared once they become public. Let's hope they can keep it together or avoid a major exodus.
If you don't know the band, listen to these tracks:
Controlling the Famous - Two Sides - HIGHLY RECOMMENDED
Controlling the Famous - Detox
The band was to perform in NYC on Tuesday.